Fran & Earl
Fran & Earl were a senior pair of pit bulls, surrendered to the Fargo pound when their owner could no longer care for them. Keeping this senior pair together was important to us, but with both of them needing daily medication and being pit bulls, their wasn't a lot of interest in them. To garner them some much needed attention, we held a wedding for Fran and Earl in July of 2022. Their wedding received nationwide attention and even appeared in the People magazine! Shortly afterwards, they were adopted by a local family and are doing great!
The article in the Fargo Forum about their adoption:
We'll take a break momentarily from the gloom and doom to introduce you to someone who might be just be an angel, and she lives right here. Her name is Jenna Jackson, and she loves dogs.
She loves all dogs — all animals, actually — but Jenna particularly adores old dogs, those that don't have much of a chance to be adopted from a shelter because who, after all, would want to take in a dog that you might only get a few months or a year or two with?
Jenna would, and does. She adopts hospice dogs, those that end up in the pound or shelters that are terminally ill or near the end of life. And she gives them a home, love and a dignified end.
"I used to be the intake coordinator for a couple of the rescue organizations, and one time there was an old dog that we couldn't adopt out," Jackson said. "It was an old dog that came in and it couldn't really be adopted, so I thought I would take it. Her name was Macy, and that was my first hospice dog and she was the best dog ever. And then I just fell in love with dogs that end up in the pound and they're old and just not adoptable."
Jackson owns Sit Stay Spa, a pet grooming business in West Fargo. She chatted while giving a small dog a trim, with young employees on either side of her doing the same thing. She opened the business two years ago after working at the Mutt Hutt in Moorhead for 15 years.
Earl and Fran, dogs adopted from the Homeward Animal Shelter, stand outside the Fargo Theatre in downtown Fargo with their new owner Jenna Jackson.
Hannah Stonehouse Hudson / StonehousePhoto.com
Dogs are a central focus of her life, clearly.
"The older ones are the best. They're just so sweet," Jackson said. "They come to you and they're just super chill. Just the best."
And so, naturally, when news spread in Fargo-Moorhead that there was an elderly dog couple at the Homeward Animal Shelter — Fran and Earl — looking for a forever home after their previous person could no longer care for them, Jenna started getting messages. Nudges, really.
She should adopt Fran and Earl. She'd be the perfect pairing for them. Who could be better for these old pit bulls than Jenna?
"I saw them on Facebook, and people kept tagging me," Jenna said. "And then I heard they were super nice. So, yeah."
It became official this week when Homeward announced on social media that Fran and Earl had been adopted by Jenna (and her boyfriend, children and the family's other dogs, cats and rabbits). The event was marked by a "honeymoon" and photo shoot in downtown Fargo that included an ice cream treat for the dogs.
It gives a happy ending to a story the shelter did a wonderful, creative job of telling.
Earl is 11 1/2 years old, Fran 9 1/2. They'd been together for most of their lives with the same owner and had bonded, meaning they need to be together. When their previous person had to surrender them, Earl and Fran needed to be adopted as a pair. To separate them would've been unacceptable.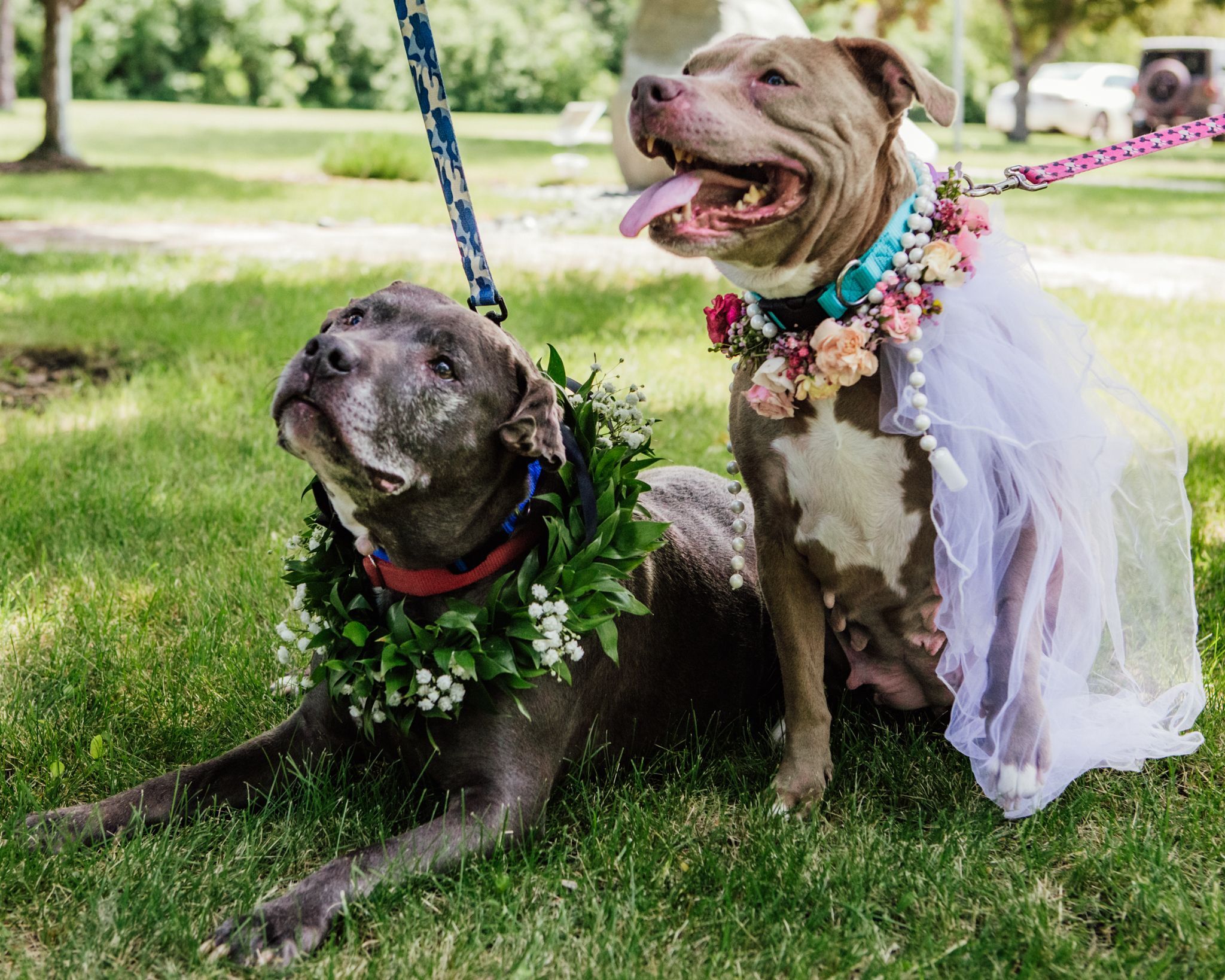 Hank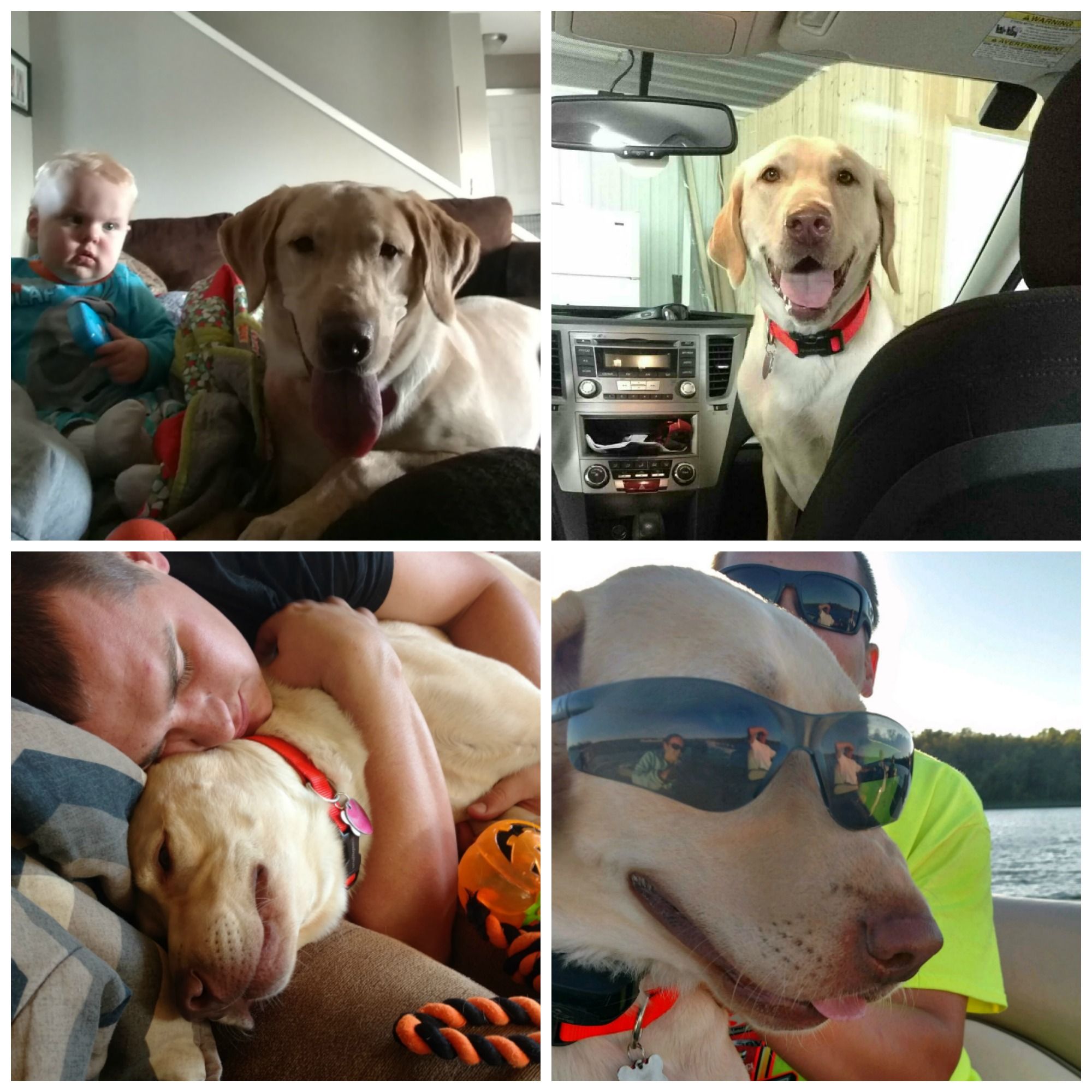 Hank (formerly "Frank") only had to wait a day to find his forever home and it sounds like he's the perfect fit for this family!
When we first decided we wanted to get a dog we were really looking into a puppy so we could raise him to be our own. We then decided to look into the shelter since we did not want to buy from the pet store or a puppy mill. Our good friend Shannon was working at the shelter when she told us about a young yellow lab coming in. We knew we just had to meet him and it was love at first sight. We were able to take him home right away. Now we could not imagine life without Hank and we always talk about how boring and lonely life would be without him.
It has been a little over a year since we decided to adopt Hank. Since he was only in the shelter for about a day we were not really sure what we were getting ourselves into. We have a 4 year old cat who seems to have an attitude so we were not really sure how they would react to each other. It took some adjusting but now they defiantly have a love/hate brother sister relationship. When we were walking out of the shelter the lady at the first desk told us that he was the type of dog that was going to sleep with us. At first we had him in the kennel at night and he would bark at 5am every morning to be let out and want to cuddle on the couch. Then we decided that we could try to let him sleep upstairs on the floor in our room, little did we know he had different plans and wanted to sleep in bed. Now we have a very full bed at night but we don't think we could sleep without it.
Update on Hank's life....
Shortly after we got him we discovered that he was allergic to chicken and so after a couple food changes and some medicine he is now a happy boy with a healthy coat. Hank lives on a 11-acre farm with barn cats and 18 chickens. He loves to help Dad catch the chickens when they escape, to our surprise he can carry a chicken in his mouth without killing it. He LOVES kids and sometimes forgets how big he is but he would never do anything to hurt them. He also loves to go to the lake and play fetch in the water. Hank loves to get all the attention and doesn't like when Mom and Dad sit next to each other or talk to each other without petting him at the same time.
Thank you so much for allowing us to adopt Hank! We couldn't imagine our life without him.
Chandler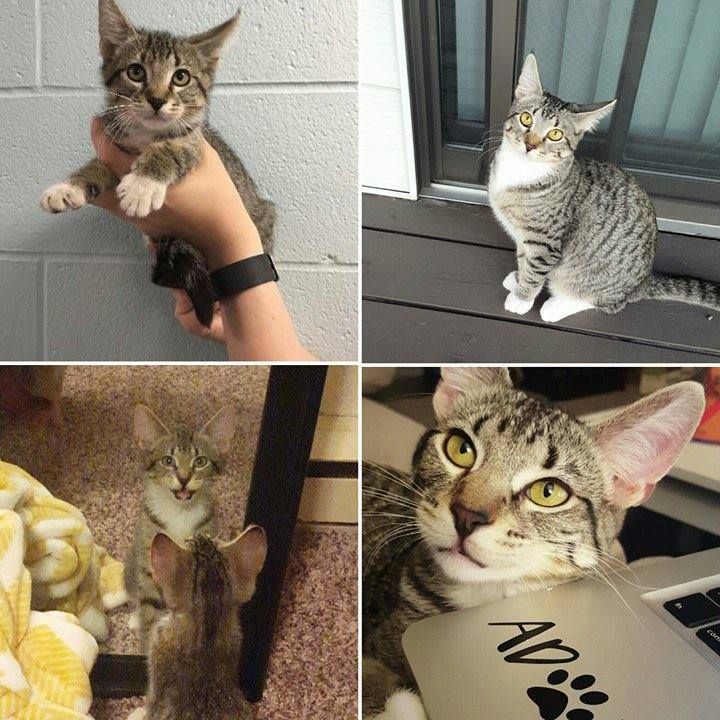 Chandler was part of a group of stray kittens that was brought to us after their mom had been tragically killed by a car. A Good Samaritan wanted to ensure that the same was not true of the kittens, and thanks to that person, Chandler now has an amazing life. Read his update below:
I just wanted to give you guys an update on Marshall! His name is now Chandler (as in Chandler Bing, but he only gets his full name when he is naughty). He is doing great! He loves to play and beg for treats. And boy is he chatty! He will definitely tell you when he is hungry or simply bored. He also has a sister now! She's not a huge fan of his craziness, but she tolerates it :) He is very cuddly too! He gets mad if I don't cuddle him before going to work in the morning - he can get quite the attitude. We have had to hide the toilet paper roll on multiple occasions because of it. He is doing great and I just wanted to thank you guys for taking care of him until I found him!