Interested in Volunteering?
Volunteers are an invaluable part of our organization. Our volunteers assist us with socializing the pets at our shelter, maintaining the inside and outside of our facility, and helping at events. If you can't financially afford to support a local rescue organization, volunteering your time is just as valuable.
We ask our volunteers to commit to a 2 hour time slot each week, for at least 6 months (ex: every Monday from 1pm-3pm as a dog socializer). 
Volunteering is open to people aged 17 and older.
If you are part of a group looking for service opportunities, please email volunteer@homewardonline.org for available opportunities and scheduling.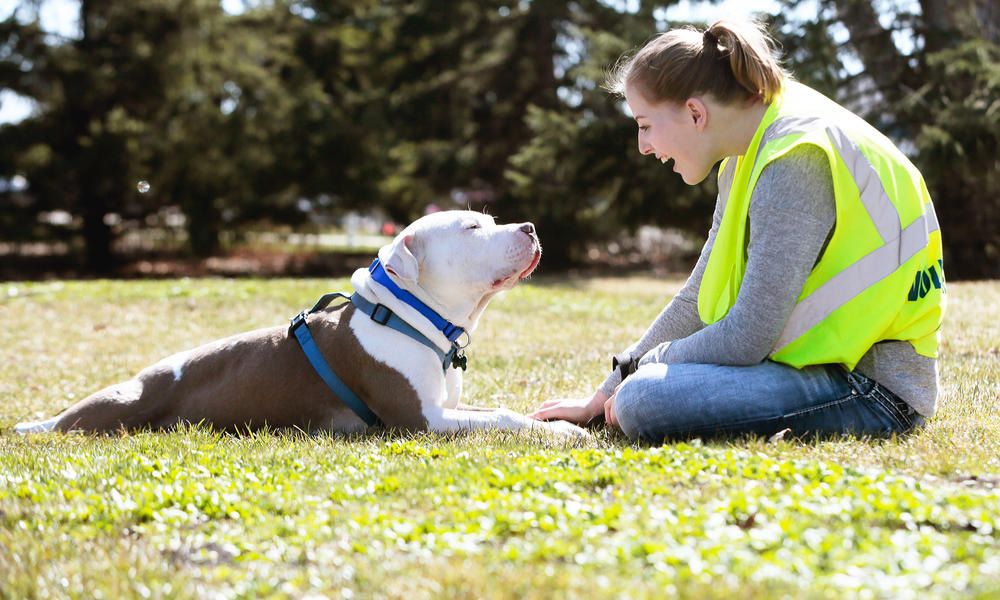 ---
Shelter Assistants - Shelter Assistants play a very important role within the shelter. The main tasks we ask of our shelter assistants are laundry, dishes, restocking our food pantry, keeping cupboards and closets organized, and just lending an extra hand wherever needed! This position is great if you want to help out but aren't sure about the hands on animal work. 
Click the link below to apply! 
---
Cat Socializers - Our cat socializers spend time one on one with the cats in our care. Our cats are often very scared and easily over-stimulated, requiring attention as they like to receive it. Some cats like pets, others are looking for play time, and some just want to be in the same room as you.
Click the link below to apply!
---
Dog Handlers - Our dog handlers provide support by walking, training, and enriching our dogs' lives. Handlers are responsible for following all handling and training procedures, both in the building and while walking through the neighborhoods. The majority of the dogs in our shelter are young, large, mixed breeds; however, the most common breeds our volunteers interact with are Pitbull Terriers, Shepherds, and Labs. This role is physically demanding and not for inexperienced dog handlers. Volunteers must be comfortable handling strong 50-90 pound dogs in all weather conditions.
Click the link below to apply! 
---
Special Skills Volunteers - If you have skills that aren't directly tied to animal care or in the shelter assistant position please fill out this application! Skills we're looking for are photographers, lawn care, building maintenance, or any other skills you think could be useful to us. We're always open to suggestions so please feel free to reach out so we can have a conversation about what you are interested in doing!
Click the link below to apply!
---
Adoption Assistant  - Our adoption counselors need help fielding the many calls they receive on a daily basis. Because we're open by appointment only, when potential adopters get here they ring the doorbell - and we could use help welcoming those people and getting them connected with who they're here to see. The adoption counselors are also responsible for making sure the website and Facebook has the same information so potential adopters will be well informed on the animal they're interested in. Anyone interested in this volunteer position should be comfortable answering the phone, talking to people, answering the door, using Facebook, and Google Calendar/Google Docs.
Click the link below to apply!
---
Office Assistant - Our foster coordinator is looking for office help to process her applications. This position would include data entry, phone calls to potential fosters, calls to landlords and vet clinics to verify information, and checking records. Ideal volunteers for this position would have experience working in an office setting, be comfortable making phone calls, and be attentive to details. This position is only available on weekdays as our foster coordinator isn't here on weekends.
Click the link below to apply!
---
Animal Transport - While we are able to do transport within the FM area, sometimes we need to bring animals to vet clinics out of town to save costs or get them in immediately. We also work with animal rescues an hour or two outside of town to transfer animals to our shelter from county pounds where they'd be euthanized. Interested volunteers would need to provide their own vehicle and gas. We would provide any kennels or things required for transport. Experience with dogs is helpful but not required - these transports are for both dogs and cats so if you prefer to be on the list and only want to transport cats we can make that work.
Click the link below to apply!
---
Current Volunteers Can Sign In to Their VIC Account Here: