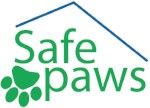 Safe Paws Program
What is the Safe Paws Program?
The Safe Paws Program is a collaborative effort partnership between the Homeward Animal Shelter, the Rape and Abuse Crises Center, YWCA of Cass Clay and a local veterinary clinic. It is modeled after the national programs that provide assistance to families who are fleeing abusive situation with their pets. The program will provide temporary foster care for a period of 45 days for the pets of those who are impacted by domestic violence.
Why is the Safe Paws Program important?
When domestic violence victims with pets consider fleeing abusive homes and there is no safe place to house their pets, they have little choice but to remain in their homes and subject themselves, their children and their pets to continued violence, or to flee and leave their pets behind.
Because victims understand the extent of the harm that their abusers will likely inflict upon their pets if left behind, many victims will remain in violent relationships.
How does the Safe Paws Program work?
When Rape and Abuse Crises Center or the YWCA has a client who has a pet that needs to be accepted into the Safe Paws Program,  the Homeward Animal Shelter will work with the client to place the pet in a carefully screened and pre-selected foster family.
Homeward Animal Shelter will be handling the selection and approval of all foster families into this program and will match pets with the foster families. The program serves both Cass and Clay counties and will accept cats and dogs only.
What can I do to help?
We are always in need of Safe Paws foster families, as they are essential part of the program.  When fostering for Safe Paws, our shelter will provide all the necessary supplies, as well as veterinary care–you simply supply the daily care for a maximum of 45 days.
You can become a foster family by filling out a Foster Family Application and indicating on the form that you are interested in fostering for this program.  Once we receive your completed foster application, we will process it and give you a call in 2-3 business days.  If you have questions in regards to fostering for the Safe Paws program, please contact us at info@homewardonline.org or 701-239-0077.